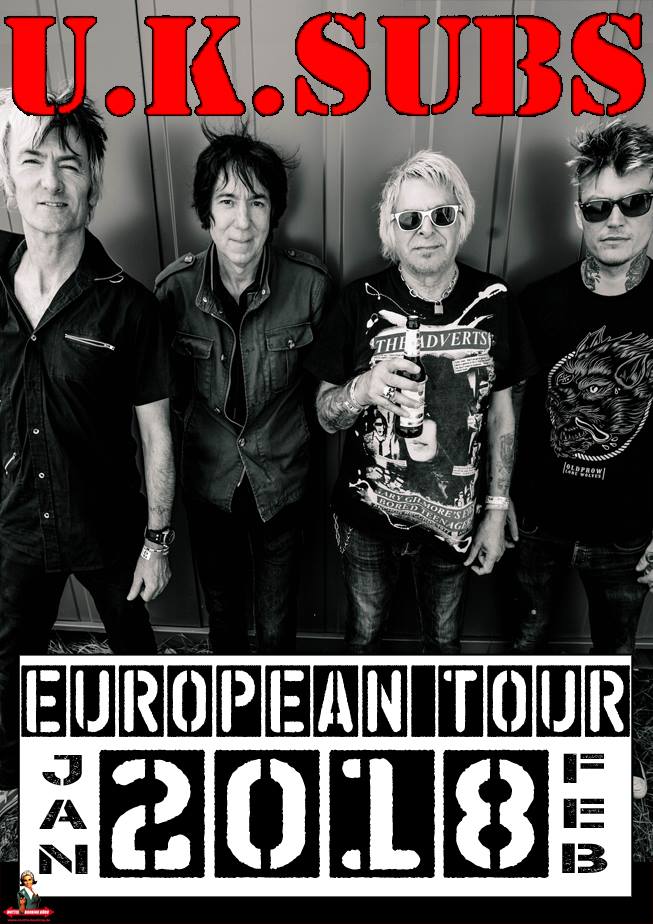 Uhrzeit:
Einlass 20.00 Uhr / Beginn 20.30 Uhr
Veranstalter:
www.muftev.de
UK SUBS
KONZERT
Support: Rather Raccoon
MUFT Münchner Union zur Förderung von Talenten e.V. proudly presents:
UK SUBS: With 2017 marking the UK SUBS' 40th anniversary; this legendary punk band continues to represent the true spirit of punk rock. Inspired by The Damned at the birth of British Punk, the now equally legendary Charlie Harper formed the Subs out of his then R&B outfit The Marauders, circa summer 1977.
Starting out as The Subversives, the name was shortened to The Subs and then changed to U.K. Subs, whilst early line-ups merged their high-speed R&B sound into punk.
October 1977 saw Charlie joined by Nicky Garratt on guitar, and it was the Harper/Garratt song writing partnership that would go on to collaborate on the band's most successful record releases. Through 1977 and 1978 the band played shows all over London including the infamous Roxy Punk Club, building up a fiercely loyal and sizeable following. Their first 'recorded' output was on the 'Farewell To The Roxy' LP.
This bought them to the attention of John Peel who was obviously impressed enough to offer to finance their first single. However, City Records ended up releasing their first brilliant single, C.I.D, in September 1978. It became a huge indie number 1 hit. In 1979, they signed to Gem Records and surprised everyone by becoming one of the most consistently and visibly successful punk bands, with seven consecutive UK Top 30 hits between 1979-81 – Stranglehold, Tomorrows Girls, She's Not There, Warhead, Teenage, Party In Paris and Keep On Running. They also scored two UK top ten albums – Brand New Age and Crash Course – establishing themselves throughout the world with a heavy touring schedule that still continues to this day.
Led by the indefatigable 72 years young Charlie Harper – now venerated as the godfather of UK punk – the band has continued to improve through various line-ups and record companies.
Still touring worldwide, they maintain that true spirit of punk rock continuing to inspire each subsequent generation of fans. There has never been any division of fan and band with the Subs, and Charlie's unrelenting love of his audience and music shines through. This is something that galvanized listeners of Steve Lamacq's BBC 6music show to vote them as the most respected of Punk 'icons', to win the 2010 Punk World Cup.
2016 saw the eagerly anticipated final album 'Ziezo' released – via a fabulously successful PledgeMusic campaign – to a crescendo of critical acclaim, as they completed their quest to be the first band to release their official albums alphabetically A to Z!. The worldwide touring regime has continued apace – including the USA, Europe and Japan as the band continue to entertain and amaze with their powerful live shows.
With a fabulous line up in place of Charlie, Steve Straughan on guitar, Alvin Gibbs on bass and Jamie Oliver on drums, the U.K. Subs continue to entertain, enlighten and enthuse with blistering recordings as well as their ever-popular enthralling live shows.
Like a vintage wine – the U.K. Subs just get better and better.
Rather Raccoon aus Landshut spielen seit 2009 englischsprachigen Punkrock, der in den 70gern verwurzelt ist, aber seine Pop-Punk Einflüsse aus den 90gern nicht versteckt. Schon kurz nach der Gründung ging es raus aus dem Keller und auf die Bühnen ihrer Heimat, wo sie sich schnell ein Stammplatz erspielen konnten. Der erste Meilenstein wurde 2011 in Form einer DIY Demo veröffentlicht, die klassischen Kelleraufnahmen waren allerdings nicht genug um die Viererpackung Punkrock zu befriedigen. Viele weitere Konzerte in ganz Bayern folgten, Freundschaften mit internationalen Bands wie den argentinischen Argies oder Dan Webb and the Spiders aus den USA wurden geschlossen und 2013 konnte die erste EP "All the Kids" veröffentlicht werden. Nach wie vor ohne Label und ganz dem DIY verschrieben schickten sich Philipp, Liza, Michael Ingä und Matze nun an auch überregional zu touren, so ging es landauf landab, Konzert um Konzert, Aftershow-Party um Aftershow-Party und die Vier machten sich schnell einen Namen durch ihre energiegeladenen Konzerte. Das alles war genau die richtige Vorbereitung auf das ganz große Ding 2014. Über das Münchner Label TrueTrash.com wurde eine Split-Single mit den internationalen Senkrechtstartern Barb Wire Dolls veröffentlicht, daran anknüpfend wurde es 2015 Zeit für die Band andere Länder zu erkunden. Als erstes ging es nach Österreich, später im selben Jahr ging es dann nach England. Das englische Publikum fand schnell Gefallen am Sound der jungen Band und spätestens seitdem Rather Raccoon mit den Legenden von 999 auf der Bühne stand sind sie definitiv ein Begriff in der Szene. Nachdem sie 2016 ihr Debut auf dem weltbekannten Rebellion Punk Music Festival in Blackpool feierten und auch im Rest von England und Frankreich einige Bühnen bestiegen (unter anderem in den legendären Räumen des Underworld in Camden) wurden 2017 einige tolle Shows mit Bands wie The Baboon Show – Official, den Barb Wire Dolls oder The Prosecution gespielt. für den Winter 17/18 stehen Studioaufnahmen der Band auf dem Programm.